Green asparagus
with poached egg from our own farm, San Daniele and tomato-mustard vinaigrette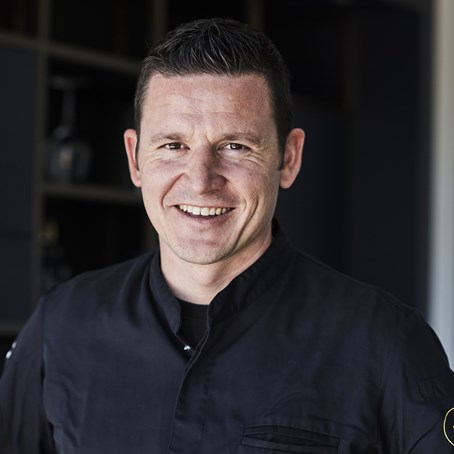 INGREDIENTS
FOR TWO PEOPLE 
by Tino Staub
8 pieces green asparagus
2 eggs from your local farm
50 gr thinly sliced San Daniele
PREPARATION
Peel half of the asparagus and boil in salted water for 3-4 min. Poach the eggs for approx. 5-7 minutes
Tomato vinaigrette
:
80gr Datterini tomatoes, quartered 

10gr pine nuts
1gr parsley Liscio, finely chopped
1 tbsp shallots, finely chopped
50gr olive oil
10gr asparagus vinegar
25gr coarse-grained mustard Terreni alla Maggia
Fleur de sel

Lemon juice
Mix everything carefully and season with fleur de sel and lemon juice.
Decoration for serving
:
Rocket 

Basil cress
Olive oil
Arrange the asparagus on a flat plate. Place the poached egg on top of the asparagus and salt with fleur de sel. Pour the vinaigrette on and around the asparagus. Arrange the San Daniele around the asparagus. Garnish with decorations. - ENJOY!
Tino Staub
Exective Chef, Widder Hotel
As Executive Chef of the Widder Hotel, Tino Staub is responsible for the culinary well-being of the guests of the Widder Bar, Widder Garage, Widder Garden and as well as the Boucherie AuGust. Tino Staub's exceptional cooking style can also be enjoyed at events and banquets.
Typical for Tino Staub's dishes is a "Touch of Asia" that takes you on a journey to faraway places.

The Living Circle – is a hand-picked group of first-class hotels and restaurants in incomparably beautiful locations, run by dedicated hosts. Rice, vegetables, fruit and a whole array of exquisite products – including wine, of course – is whisked fresh from our own farms directly to your table. That is how we define luxury. That is The Living Circle – luxury fed by nature.