cream polenta «Terreni alla Maggia»
confit egg yolk from «Schlattgut» - stone mushrooms - parmesan cheese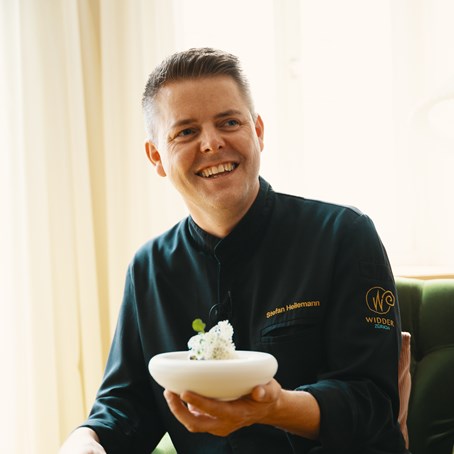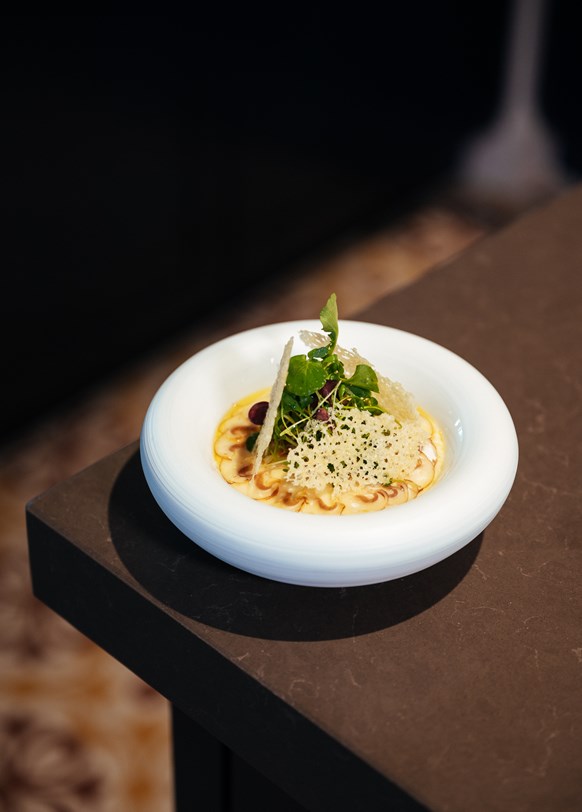 INGREDIENTS
FOR TWO PEOPLE 
by Stefan Heilemann
500ml milk
8g salt
2 sprigs thyme
50g grated parmesan cheese
50g whole cream
20ml olive oil
PREPARATION POLENTA
1. Bring the milk, salt, thyme leaves and polenta to the boil, stirring constantly, cover and leave to soak on the cooker for 30 minutes at the lowest setting.
2. Just before serving, stir the polenta with the cream, olive oil, stone mushroom cubes and Parmesan until it is creamy.
Egg yolk:
4 eggs from Schlattgut or your local farmer 

50ml olive oil

PREPARATION
1. Separate the eggs and place the yolks in a small heatproof container. Cover with olive oil and foil.
2. Place in oven for 30 min at 50°C convection oven.
3. Remove the yolks from the oil and season with salt.
Stone mushrooms:
500g stone mushrooms top fresh and small
50g clarified butter

PREPARATION
1. Clean the mushrooms and slice finely.
2. Brush a baking paper with melted butter and lay the mushrooms in a rosette using a ring. Season with salt and pepper and brush with butter again.
3. Put in a cool place and cut off the excess baking paper.
4. Cut the remaining mushrooms into small cubes and fry them in butter. Season with salt and pepper and mix into the polenta.
Parmesan cheese chips:
100g grated Parmesan cheese


PREPARATION
1. cover a plate with cling film and place a round piece of baking paper on top.
2. Sprinkle the Parmesan on top and microwave for approx. 2 min on medium heat until the chips are nice and golden.
Herb salad:
50g watercress
1 bowl garden cress
1 bowl red daikon cress
olive oil
white balsamic vinegar
PREPARATION
1. Pluck all the herbs and marinate with vinegar, oil, salt and pepper.
SERVE
1. Put the polenta in a bowl, place the egg yolk on top and cover with polenta again.
2. Place the mushroom rosette on top and carefully peel off the baking paper.
3. Garnish with lettuce and the Parmesan crisps.
WINE RECOMMENDATION 
by Stefano Petta Sommelier & Restaurant Manager Widder Restaurant


La Lepre 2019 Terreni alla Maggia

"My recommendation for the cream polenta by Stefan Heilemann is La Lepre from Terreni alla Maggia. This white wine made from Merlot grapes with its balanced structure is a true part of Ticino tradition. It tastes light, dry and fresh".
TICINO WHOLEGRAIN POLENTA
The traditional Ticino product par excellence also comes from our farm: a unique wholemeal polenta. The maize - red, black, white and yellow - is not only cultivated here, but also ground in Ticino.
Stefan Heilemann
Widder Restaurant, Widder Hotel
2 Michelin Stars - 18 GaultMillau Points
The 38-year-old took over the management of the gastronomic flagship on Zurich's Rennweg in May 2020 and has since left his mark with his unmistakable signature. After the confirmation of the 18 GaultMillau points, he and his team around host Stefano Petta are now delighted about the great award of the "Chef of the Year 2021". The additional confirmation of the two Michelin stars is another reason to celebrate.

The Living Circle – is a hand-picked group of first-class hotels and restaurants in incomparably beautiful locations, run by dedicated hosts. Rice, vegetables, fruit and a whole array of exquisite products – including wine, of course – is whisked fresh from our own farms directly to your table. That is how we define luxury. That is The Living Circle – luxury fed by nature.