Norwegian salmon ceviche
corn - quinoa - passion fruit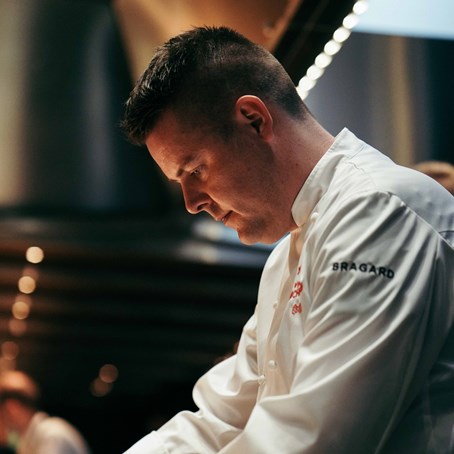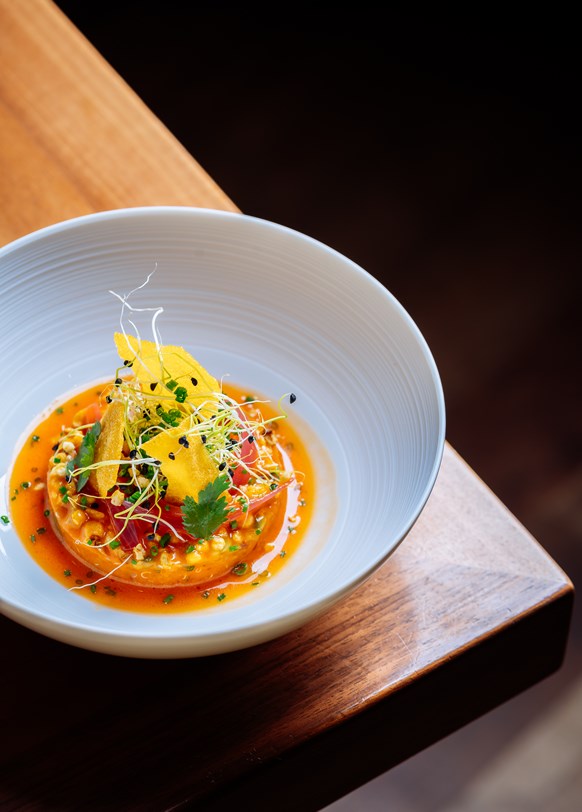 INGREDIENTS
FOR TWO PEOPLE 
by Stefan Heilemann
200 g raw salmon centre cut into 5mm cubes
4 tbsp olive oil
1 tbsp coriander, chopped
80 g red quinoa
1 tbsp shallots finely diced
PREPARATION
Boil the quinoa in salted water until crisp (about 20 min) and leave to cool. Mix gently with the salmon cubes, shallots, olive oil and coriander, season with salt and pepper.
Leche de Tigre
:
50g Datterini tomatoes 

50ml lime juice (whole limes) 

50ml passion fruit juice (Boiron bottled Jelmoli)
15g celery stalks
15g red chillies
5g fresh ginger
20g sugar
15ml fish sauce
½ tsp allspice espelette

Wash and coarsely chop the vegetables, blend with the other ingredients in a stand mixer or blender and pass through a fine sieve. Refrigerate.
Decoration for serving:
Salmon trout roe 

Mini lettuce hearts 

Chives
Fresh passion fruit
Flowers
Chopped spiced corn
Polenta Crackers "Terreni alla Maggia " by Stefan Heilemann
Place the salmon cubes in a deep dish and pour the Leche de Tigre liquid over them. Garnish with the decorative ingredients and sprinkle the spiced corn on top.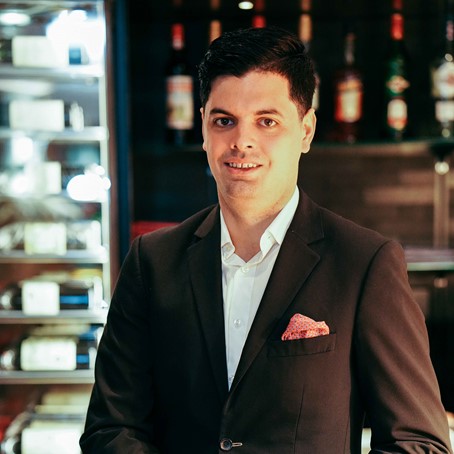 WINE RECOMMENDATION 
by Stefano Petta Sommelier & Restaurant Manager Widder Restaurant


Kerner 2020 Terreni alla Maggia

"My recommendation for the Ceviche by Stefan Heilemann is the Kerner (a cross between Trollinger and Riesling) from Terreni alla Maggia. It convinces me with its intense fruit aromas such as peach, pears, green apple and a beautiful minerality. The pleasant acidity makes it the perfect companion to ceviche."
TICINO WHOLEGRAIN POLENTA
The traditional Ticino product par excellence also comes from our farm: a unique wholemeal polenta. The maize - red, black, white and yellow - is not only cultivated here, but also ground in Ticino.
Stefan Heilemann
Widder Restaurant, Widder Hotel
2 Michelin Stars - 18 GaultMillau Points
The 38-year-old took over the management of the gastronomic flagship on Zurich's Rennweg in May 2020 and has since left his mark with his unmistakable signature. After the confirmation of the 18 GaultMillau points, he and his team around host Stefano Petta are now delighted about the great award of the "Chef of the Year 2021". The additional confirmation of the two Michelin stars is another reason to celebrate.

The Living Circle – is a hand-picked group of first-class hotels and restaurants in incomparably beautiful locations, run by dedicated hosts. Rice, vegetables, fruit and a whole array of exquisite products – including wine, of course – is whisked fresh from our own farms directly to your table. That is how we define luxury. That is The Living Circle – luxury fed by nature.