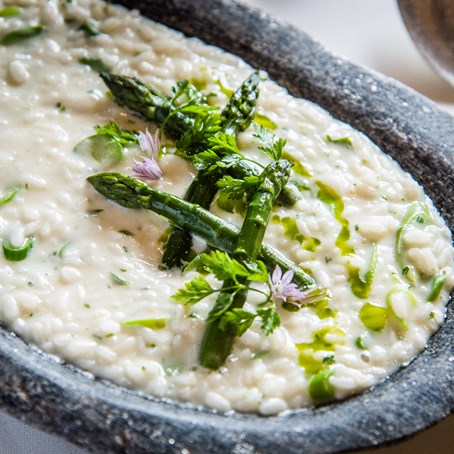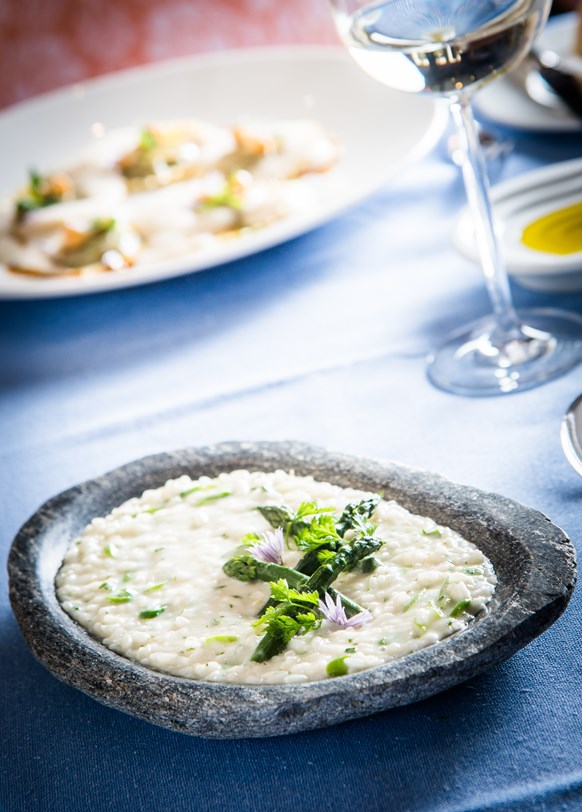 INGREDIENTS for 4 people
by Mattias Roock
400 g green asparagus
50 ml olive oil
260 g Loto risotto rice (home grown)
50 g shallots brunoise
150 ml white Merlot
700 ml asparagus stock/vegetable stock
50 g butter
50 g mascarpone
80 g grated Sbrinz
50 g spring herbs from our garden
salt, pepper to taste
Preparation 
Cut off the stem ends of the asparagus and peel to ¾, then cut into pieces of about 1 cm and leave the tips whole
Pre-cook the asparagus pieces and tips in salted water
Sauté the shallot in olive oil
Add the washed Loto risotto rice and sauté until translucent.
Deglaze with white wine and let it boil down a bit
Gradually add the hot asparagus fond/vegetable broth, season with salt and pepper, cook gently for about 12-15 minutes, stirring constantly.
When the risotto is al dente, remove from the heat, add the asparagus, butter, mascarpone and the grated Sbrinz.
Leave to stand for 2-3 minutes, seasoning a little if necessary. This is a very crucial point, because only then it gains its perfect, creamy-moist consistency and should still be al dente!
Serve the risotto in a warmed plate with glazed asparagus tips and spring herbs.
TICINO RISOTTO RICE
We are the first agricultural company to cultivate one hundred percent Swiss rice. We work with dry cultivation: the plants are only watered by spraying when necessary. This saves water and has ensured the unmistakable taste of our risotto for over 20 years. The fields are located near a nature reserve on Lake Maggiore.
Mattias Roock
Executive Chef, Castello del Sole
1 Michelin Star - 1 Michelin Green Star - 18 GaultMillau Points
Mattias Roock, chef at the 5* Hotel Castello del Sole, is "Mister Farm to table" according to GaultMillau Switzerland. He takes the best from the hotel's own garden and the associated estate "Terreni alla Maggia" and uses it to create, among other things, the 5-course menu "Sapori del nostro orto", which means "the taste from our garden".

The Living Circle – is a hand-picked group of first-class hotels and restaurants in incomparably beautiful locations, run by dedicated hosts. Rice, vegetables, fruit and a whole array of exquisite products – including wine, of course – is whisked fresh from our own farms directly to your table. That is how we define luxury. That is The Living Circle – luxury fed by nature.