Spaghetti from our own farm
caviar - egg yolk - chives - marrow crumble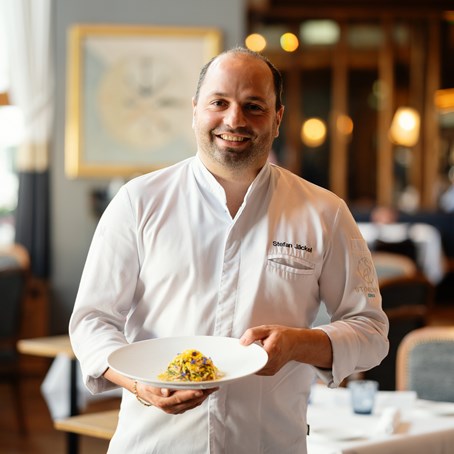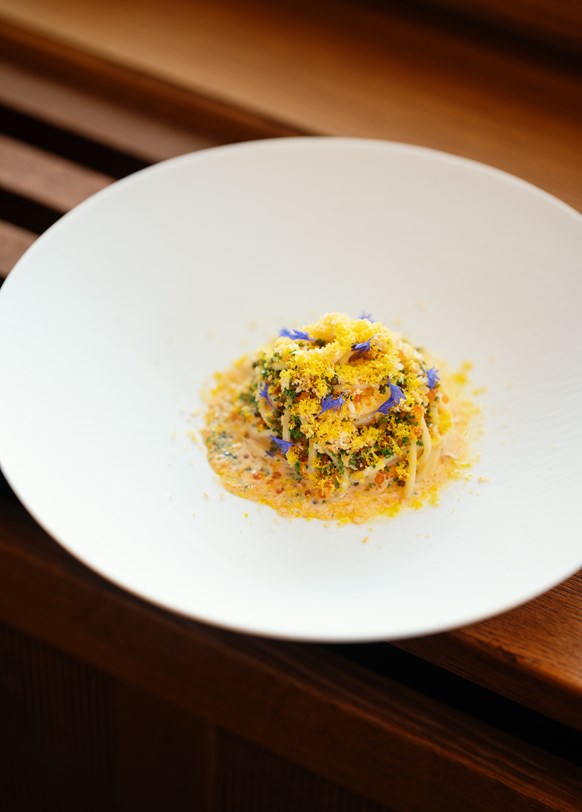 INGREDIENTS
FOR TWO PEOPLE 
by Stefan Jäckel
50g caviar
20g salmon roe
20g Tobiko caviar
(from flying fish)
1 egg
native olive oil
chives finely chopped
marrow crumble
chive blossoms
beurre blanc
Egg yolk:
1 egg yolk (egg from Schlattgut or your local farmer) 

salt

sugar

lemon peel

PREPARATION
Place the egg yolk in the salt and sugar mixture and cover completely. Leave to pickle in the refrigerator for 7 days. Wash off. Dry in the oven at 50 °C. Store the egg yolk in a cool, dry place until use.
Marrow crumble
50g panko flour (Asian breadcrumbs)
50g expulsed medulla
fleur de sel
finely chopped chives

PREPARATION
Sprinkle the panko flour on a baking paper. Spread the marrow bone in small cubes on top. Bake in the oven at 180°C until golden brown. Mix with fleur de sel and finely chopped chives.
Champagne beurre blanc:
20g butter


50g mushrooms

50g celery stalk

50g shallots

1 bay leaf

2 tarragon sprigs

10cl champagne

200ml fish stock

100ml cream

salz and pepper
PREPARATION
Cut the mushrooms, celery and shallots into small cubes and sauté in the butter until colourless. Deglaze with champagne and fill up with the stock. Strain everything through a fine sieve and then add the cream. Season to taste with salt and pepper. Before serving, froth the Champagne Beurre Blanc with ice-cold butter.
SERVE
Cook the spaghetti according to the instructions (5min). Mix the caviar with the warm but not hot Beurre Blanc. Arrange the spaghetti in a deep plate. Spread the caviar - Beurre Blanc over the spaghetti. Garnish with the chives, marrow crumble and chives. Finally, grate the egg over the top.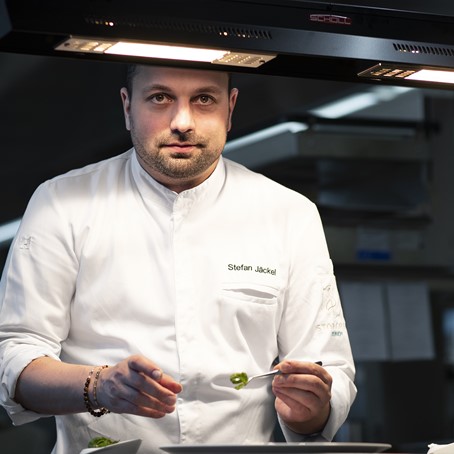 WINE RECOMMENDATION 
Il Castagneto 2020
Our wine recommendation for Stefan Jäckel's spaghetti dish is Il Castagneto from our farm Terreni alla Maggia. The Chardonnay grape is grown in Ascona and in Locarno. Thanks to the warm and dry summers, a fine and exquisite product is created, which ferments in new French barrique barrels to create this delicious drop. Citrus fruits, pineapple and a slight boisée note - paired with a roasted aroma - characterise this wine. It goes particularly well with aperitifs, starters, fish or white meat - so it's perfect for this recipe!
Stefan Jäckel
La Rôtisserie, Storchen Zürich
1 Michelin Star - 17 GaultMillau Points
Since 2019, Stefan Jäckel, together with Fredi Nussbaum has been providing culinary highlights directly on the banks of the Limmat. The reward was not long in coming - 17 Gault Millau points quickly followed, as well as the first Michelin star for La Rôtisserie. 

The Living Circle – is a hand-picked group of first-class hotels and restaurants in incomparably beautiful locations, run by dedicated hosts. Rice, vegetables, fruit and a whole array of exquisite products – including wine, of course – is whisked fresh from our own farms directly to your table. That is how we define luxury. That is The Living Circle – luxury fed by nature.