Polenta gnocchi
with green asparagus and truffle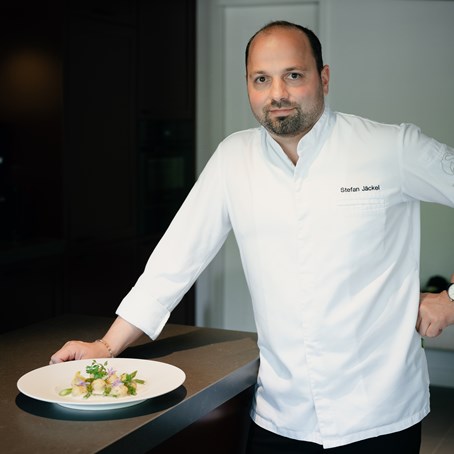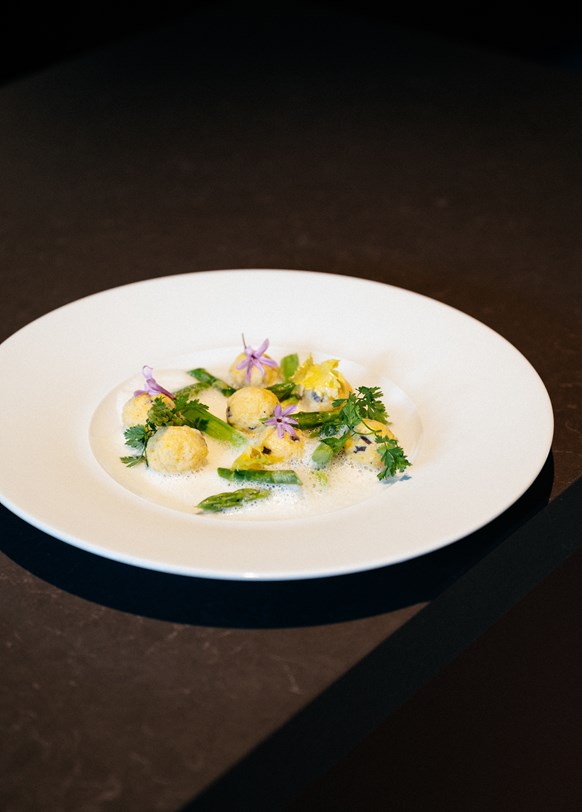 INGREDIENTS
FOR TWO PEOPLE
by Stefan Jäckel

Polenta gnocchi
100g ricotta
1 egg yolk
50g flour
2 tsp chopped truffle
salt and pepper
PREPARATION
Mix all the ingredients and work into a smooth dough. Sprinkle the plate with a little flour or polenta. Shape the gnocchi dough into small balls by hand. Let shaped gnocchi steep in lightly simmering salted water for 10 min.
Champagne Beurre Blanc 
20g butter

50g mushrooms
50g celery
50g leek
50g shallots
2 sprigs tarragon
1 floury potato
10cl champagne

200ml chicken or vegetable stock

100ml cream

salt and pepper
Cut the mushrooms, celery, leek and shallots into small cubes and sauté in the butter until colourless. Deglaze with champagne and fill up with the stock. Cut the potato into small pieces and cook until soft. Strain everything through a fine sieve and then add the cream. Season to taste with salt and pepper. Before serving, froth the Champagne Beurre Blanc with ice-cold butter.
Green asparagus
6 spears green asparagus 

salt
Cut off the bottom third of the asparagus. Peel the asparagus by approx. 3 cm and blanch in plenty of salted water for 3 min. and then rinse in iced water. Cut the asparagus into equal pieces and glaze in butter, together with a tablespoon of vegetable or chicken stock. 
Arrangement 
Arrange everything nicely on the plate and pour the foamed Beurre Blanc over it so that you can still see the gnocchi. Decorate with the truffle and fresh garden herbs. - ENJOY!
TICINO WHOLEGRAIN POLENTA
The traditional Ticino product par excellence also comes from our farm: a unique wholemeal polenta. The maize - red, black, white and yellow - is not only cultivated here, but also ground in Ticino.
Stefan Jäckel
La Rôtisserie, Storchen Zürich
1 Michelin Star - 17 GaultMillau Points
Since 2019, Stefan Jäckel, together with Fredi Nussbaum has been providing culinary highlights directly on the banks of the Limmat. The reward was not long in coming - 17 Gault Millau points quickly followed, as well as the first Michelin star for La Rôtisserie. 

The Living Circle – is a hand-picked group of first-class hotels and restaurants in incomparably beautiful locations, run by dedicated hosts. Rice, vegetables, fruit and a whole array of exquisite products – including wine, of course – is whisked fresh from our own farms directly to your table. That is how we define luxury. That is The Living Circle – luxury fed by nature.