Whole turbot stuffed with seafood 
spicy cucumber salad - coriander - red Thai curry 
The idea behind the recipe is a fusion of classic French cuisine, craftsmanship and the authentic flavours of Thailand.
This dish has been a classic by Stefan Heilemann for several years.
- 1 turbot (about 1 kg) 
- hollowed out from the lower belly side
- marinated with 2 tablespoons Tom Yum base
10gr Tom 

Yum

 base (recipe follows below)
1 tbs. 

Tom 

Yum

 base (recipe follows below)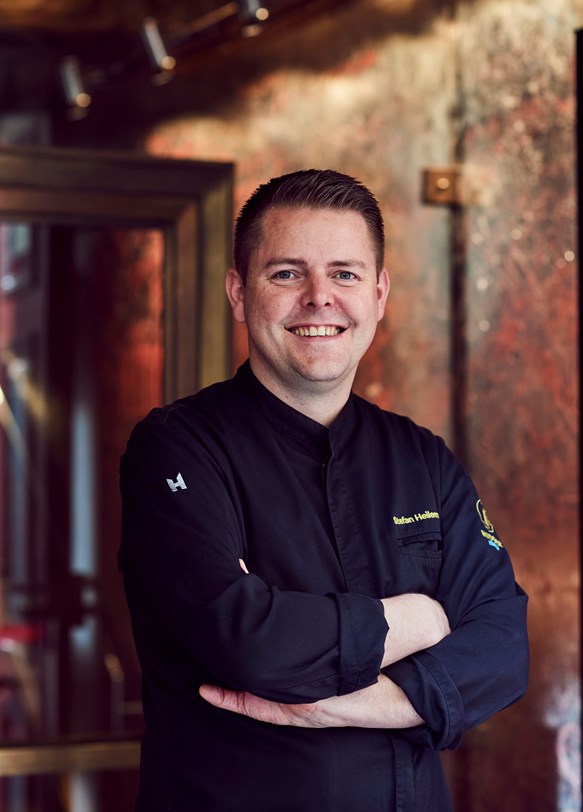 PREPARATION
Mix all ingredients for the farce in a Pacojet or a blender. Cut the seafood into small pieces and marinate with the paste, add the seafood to the farce and fill the turbot. Put the turbot in a cool place.
1

 l

iter

 coconut milk

0,5 liter white wine

1 carrot

1 kg shallots

200 gr fresh tomatoes

100 gr champignons

200 gr Thai curry paste red 

1

00 gr Tom Yum base

 
Let everything simmer for about 1 hour.
Then add the following and let it simmer for about 1 hour.
1 bunch coriander

 

4

 sticks lemongrass

10 pcs. 

Kaffir

 Lime leaves

50 

gr Galangal



Finally season with salt, lime juice and Thai fish sauce. 
Coriander c
reme:
500 gr a

vocado

 

15 gr 

 c

oriander leaves

 

15 gr ginger

10 gr garlic

1 tsp. soy sauce

 

10gr green chili

salt

lime juce

5gr Tom 

Y

u

m

 base



Finely puree everything in a blender and pass through a sieve. 
500 gr peanuts salted

100 gr red bell bell pepper finely diced

50 gr 

Kaffir

 leaves finely diced

50 gr lemongrass

 

2 pcs. Kaffir l

ime

 

1 tsp. Mumbai Curry

 
Roast, mix and sieve the nuts.
Mix everything with the spices and dry slowly under the heat lamp.
Spicy cucumber salad: 
Cut the cucumbers into fine slices and place them in 4 bowls.
50 ml fish sauce 

 

50 gr palm sugar

 

50 ml lime juice

5 pcs. 

cherry tomatoes

1 clove of garlic

1/2 Thai chili pod
Mix everything finely in a mixer.
With chili, cherry tomatoes,
Decorate peanut crumble, flowers and coriander cress.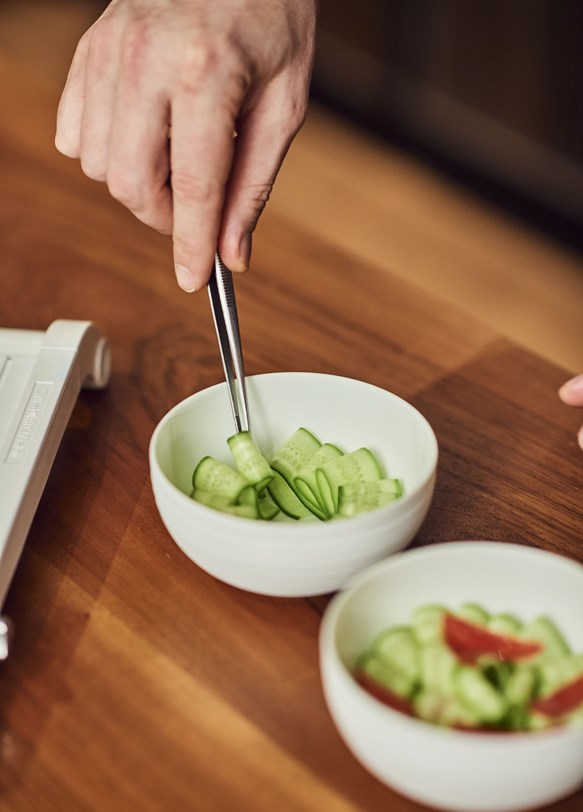 Finish the turbot:
Fry the turbot on the grill from both sides and put it in a roaster. Fill up with approx. 500 ml Thai curry sauce and add the following flavours: 
1 bunch coriander 

10 leaves 

Kaffir 

lime

100 gr galangal
Cook in the oven at 180 degrees for about 12 minutes. In the core it should have 40 degrees.
Lift the turbot out of the roaster, remove the skin and cut into 4 nice pieces.
Sprinkle with the peanut crumble. Strain the sauce.
Arrange the coriander cream in the middle of the plate

Pour the sauce

 

Place fish on top
Garnish with Goa cress 

Grate a fresh zest of a Kaffir lime over it
We wish you "En Guete"!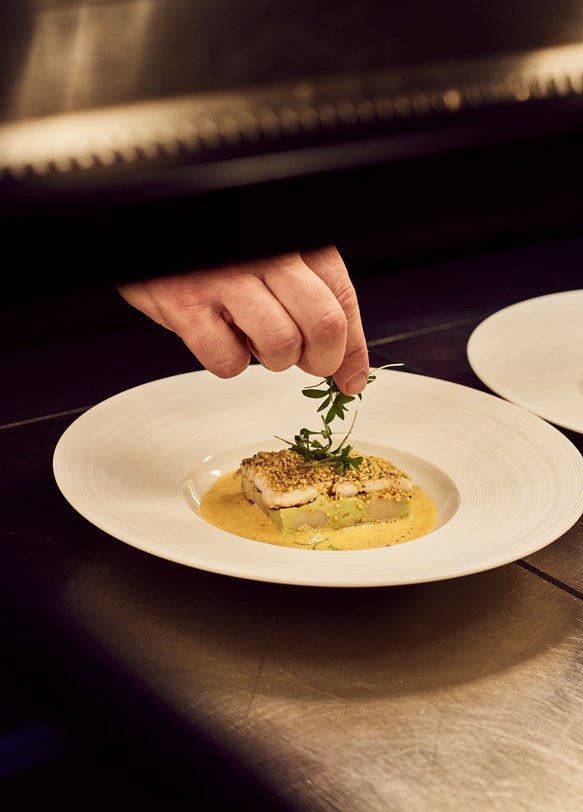 Red curry paste:
1 pc. shallot medium chopped
4 pcs k. Thai-Chili chopped
3 garlic cloves chopped
1 stem lemon grass chopped
2 Kaffir leaves
2 teaspoons galangal root peeled and chopped
1 tsp Kaffir lime peel rubbed off
2 tablespoons coriander root chopped
1 teaspoon chili powder
1 tablespoon of sugar
1 teaspoon cumin ground
1 teaspoon coriander seed ground
1 teaspoon salt
5 tablespoons coconut oil

Mix everything finely to a paste.
Tom Yum base:
1 pc. Lemongrass
50g Galangal
60g ginger
2 pcs. shallots
2 cloves of garlic
2 teaspoons chili powder
4 tablespoons lime juice
8 pcs. Kaffir Lime Leaves
4 tablespoons sugar, brown
4 tablespoons coconut oil
2 tsp salt
1 tablespoon tomato paste
2 tablespoons fish sauce

Mix everything into a paste in a mixer.
Stefan Heilemann
Widder Restaurant, Widder Hotel
2 Michelin Stars - 18 GaultMillau Points
The 38-year-old took over the management of the gastronomic flagship on Zurich's Rennweg in May 2020 and has since left his mark with his unmistakable signature. After the confirmation of the 18 GaultMillau points, he and his team around host Stefano Petta are now delighted about the great award of the "Chef of the Year 2021". The additional confirmation of the two Michelin stars is another reason to celebrate.

The Living Circle – is a hand-picked group of first-class hotels and restaurants in incomparably beautiful locations, run by dedicated hosts. Rice, vegetables, fruit and a whole array of exquisite products – including wine, of course – is whisked fresh from our own farms directly to your table. That is how we define luxury. That is The Living Circle – luxury fed by nature.