Young lord of the cigars

Young lord of the cigars

Young lord of the cigars

Young lord of the cigars
Scroll down
Smoke from a Montecristo curls silently against the backlight, ice cubes clink in glasses and the sweet, heavy scent of rum lies in the air — the Cigar Bar at Storchen Zurich celebrates la pura vida.
A rounded wooden ceiling, window panes featuring the coats of arms of past guild masters, deep leather armchairs, wafting plumes of smoke, discreet music — the Cigar Bar in the Storchen is in a class of its own. But the real star is behind the bar. Aged just 19, Lorin Peccolo is already head barkeeper and lord of more than 20 different kinds of rum and 30 cigar brands.
His age is not a problem for his guests, he says in an unusually sonorous voice. Why should it be? He delights them with in-depth knowledge and tangible enthusiasm for his subject and transports them into the world of rum and cigars. "Sugar cane and tobacco not only flourish side-by-side in nature. They also complement each other ideally as stimulants", he says. "Thanks to the many different products we offer, I am constantly discovering new combinations and unexpected explosions of flavour."
Cohiba, Montecristo, Partagas or Sancho Panza — the preferences and requirements are as varied as the guests. This is a daily challenge for Lorin Peccolo, whose takes a similar approach to a sommelier when recommending new combinations: surprise connoisseurs with unusual flavours, and don't ask too much from beginners by offering excessively complex structures. For novices, for example, he advises Flor de Selva with Zacapa 23. "The cigar from Honduras is mild, light and develops a wonderful taste and strength. The Guatemalan rum is made not with molasses or freshly pressed sugarcane juice, but with syrup. Anyone with a sweet tooth will love this combination. "Our female guests, for example. They also like the fact that the company that makes the cigar is run by a woman — that is unique in the still male-dominated world of cigars.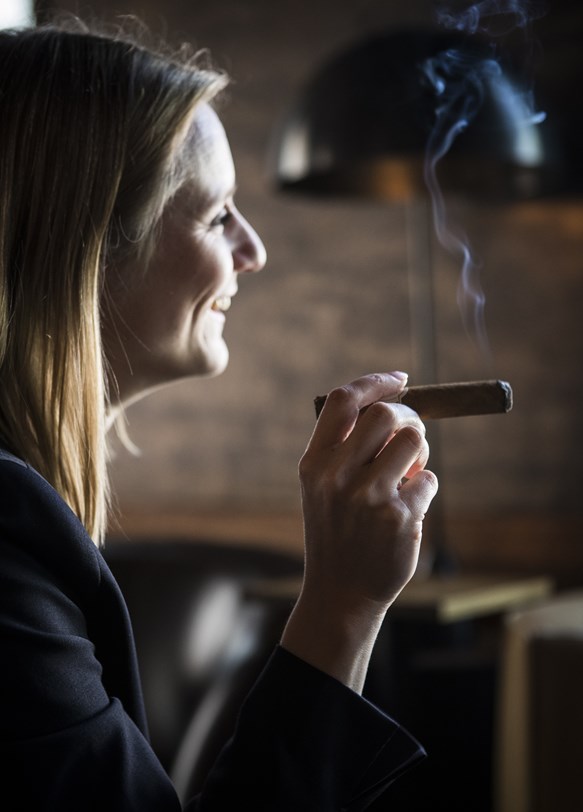 It is no coincidence that Lorin Peccolo has become a cigar expert and barkeeper in a luxury hotel so early in life. He smoked his first cigar at 16. After that, he yearned to find out more about the subject, devoured specialist literature, talked to experts and sampled the range of products. His fascination grew into a passion.
He has tested around 900 different cigars. That amounts to quite a bit of experience and know-how, the trained restaurant professional says with a grin. "I am surrounded by connoisseurs, can experiment with different tastes and aromas and pass on my knowledge to like-minded people. For me, that's the best thing in the world."
Text: Anina Rether
Photo: Anna-Tina Eberhard

The Living Circle – is a hand-picked group of first-class hotels and restaurants in incomparably beautiful locations, run by dedicated hosts. Rice, vegetables, fruit and a whole array of exquisite products – including wine, of course – is whisked fresh from our own farms directly to your table. That is how we define luxury. That is The Living Circle – luxury fed by nature.