Say it with roses

Attractive and opulent is what a summer table arrangemet should ideally be
Scroll down
Attractive and opulent is what a summer table arrangement should ideally be. Of course it should also look natural, if you ask Marc Wyss. The manager of Restaurant Buech is a master of his trade with many years of experience in the city of Zurich. He also organizes private celebrations.
"Most guests want to take the decorations home with them", says a voice from above. Marc Wyss is standing on a ladder, adjusting the last plant holders for his hanging garden in the shady summer pavilion of Restaurant Buech above Herrliberg. A wedding is taking place here tomorrow and the decorations in the lounge must be just right. "We even want them to take them with them, as long as we have talked about it beforehand",  explains the creative genius, who is now back on firm ground. His table decorations are most in demand. Today he is showing us how a beautifully arranged table should look like in summer.
"Opulence and abundance are most important." The main thing is not to save in the wrong place — something he learned from Jeff Leatham, Artistic Director at the George V in Paris, a rock-and-roll florist who arranges major events for many big Hollywood names. And especially don't pinch pennies when it comes to the flowers. Wyss and his team go to the flower wholesale market in Zurich at least three to four times a week.
This time, he has chosen luminous yellow Calla Lilies (Zantedeschia). These trumpet-shaped beauties are the high point of a table arrangement for two. They are accompanied by yellow-and-rust veined orchids and shrub roses, also in a yellow and orange hue. "I love solemn colours without excessively bright contrasts, at least not in this context." They are complemented by various shades of green, starting with the striking pyramids of tropical leaves, created with classical floral foam and arranged in tall glass stands. "You can also use cake stands, étagères, all kinds of vases and pans as containers." Marc Wyss loves to play with different levels and props.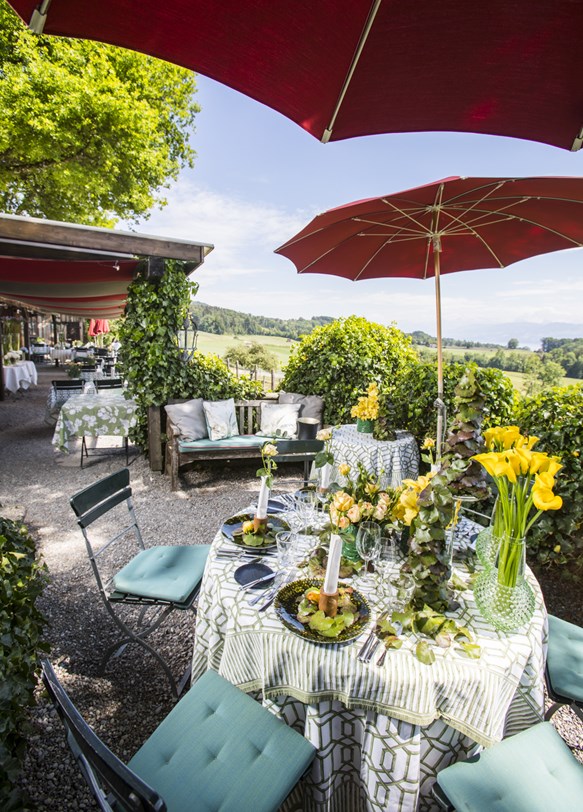 The tropical foliage is also arranged scale-like on the algae-green underplates. Next to them, green-black glass bread plates shimmer, made by a Spanish friend especially for the restaurant. Of course, the theme is also repeated on the tablecloths, of which Wyss has plenty of different varieties in his cellar.
"The cushions are from Hermès, by the way." To be exact, they are made of curtain material that he has discovered on his countless travels and had made into tablecloths.
Marc Wyss combines elegant, expensive materials with exquisite products for home use. While he can easily pay 180 Francs for an underplate, an ashtray with a floral design might cost 12 francs from Zara Home. "It's not the price that determines the value of an arrangement, but the idea. It is important to have the overall picture in your mind from the start, including the surroundings." The overall effect should not only look good, it should also be practical. For example, Marc Wyss discovered a while ago that the path to the table can also be part of the design. Which is why he has paved it with cowhides, which makes life considerably easier for women in high heels. And then there is the question of light. "It shouldn't be too harsh, otherwise you can see every wrinkle", Marc Wyss suggests with a twinkle in his eye. Indirect lighting is much better in that respect. Again, no expense is spared: Copper-coloured lanterns with stylishly transparent light bulbs hang among the mature trees at a discreet distance from the guests. And candles of course, they are always important.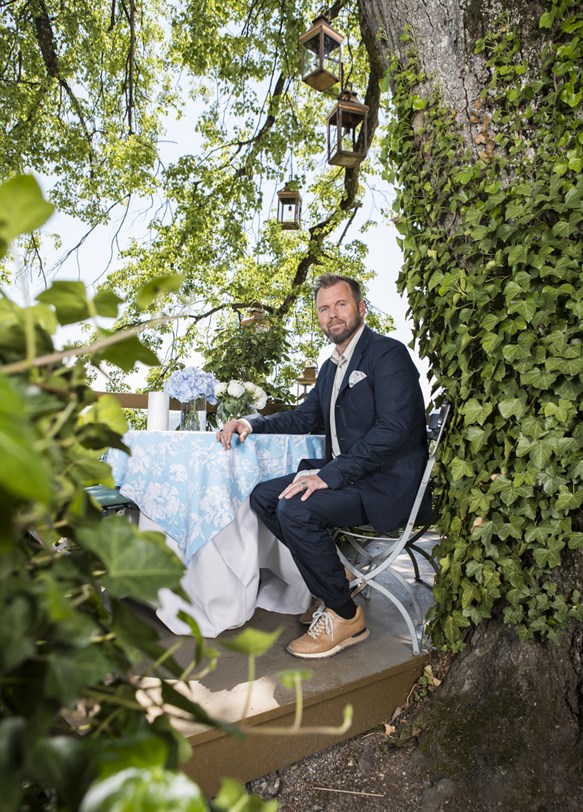 "Large-scale events, where one tries to impress by inviting as many guests as possible, are definitely out of fashion. If you throw a party, then a small one in a manageable context."
Marc Wyss
Finally, no one arrangement should be like any other. Each time you welcome guests, it must be new, surprising and different. Much like choosing what to wear. Which brings us to the inevitable question: What happens to the many beautiful flowers after a wedding or a tête-à-tête in Restaurant Buech? "We offer two options: Either guests can take the decorations home with them. Or we offer to rearrange them and reuse them, inside and outside." Throwing them away is not an option. Recycling is a matter of honour for Marc Wyss.
Reto Wilhelm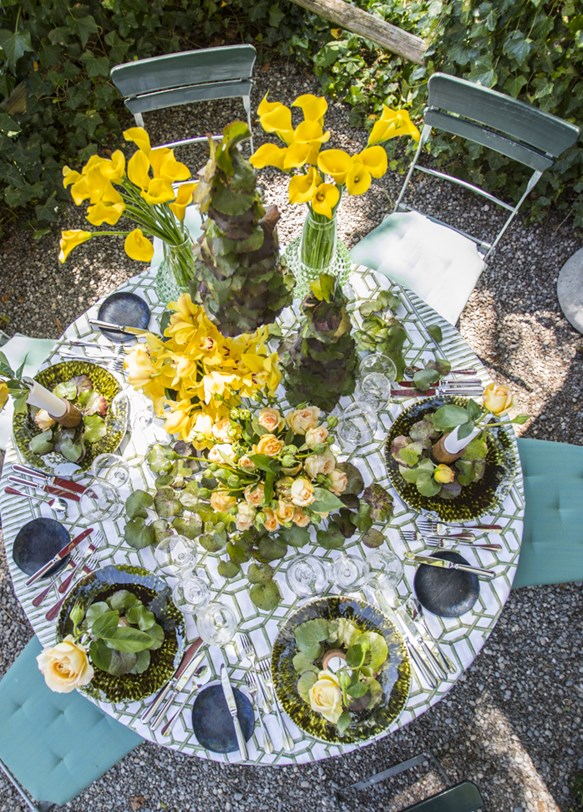 The Living Circle – is a hand-picked collection of first-class hotels and restaurants in incomparably beautiful locations, run by dedicated hosts. Rice, vegetables, fruit and a whole array of exquisite products – including wine, of course – is whisked fresh from our own farms directly to your table. That is how we define luxury. That is The Living Circle – luxury hotels fed by nature.